Event Detail
Back to Events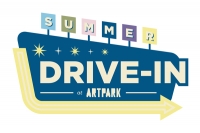 Art :: Movie
DRIVE-IN FILM: HARRY POTTER AND THE CHAMBER OF SECRETS
7:30 PM
Artpark
Description:

Summer Drive-In Film Series at Artpark is supported by M&T Bank
Artpark Lower Park
Vehicles: Parking Lot D (Nearest South 4th Street, Lewiston NY)
Walk-ins & Sponsor VIP Vehicles: Parking Lot C (Painted Lot)
Audio for the films will be transmitted via car radio.
Gate time 6:30pm, Showtime 7:30pm
The second installment in the Harry Potter series finds young wizard Harry Potter (Daniel Radcliffe) and his friends Ron (Rupert Grint) and Hermione (Emma Watson) facing new challenges during their second year at Hogwarts School of Witchcraft and Wizardry as they try to uncover a dark force that is terrorizing the school.
2002 / Rating: PG / Runtime: 160 mins
DRIVE-IN FILM ADMISSION
For the immediate future, all ticketing will be pre-sale only. Ticket sales will not be available on-site at the toll booth/ticket window until further notice.
Please pre-purchase your tickets online* at the link below or by phone at 716-754-4375. *Fee applies for online orders.
$25 per vehicle?
Price includes $8 admission and $17 concession credit
A limited number of walk-in tickets are available: $25 for groups of 1-4 people
Price includes $8 admission and $17 concession credit.
Please bring your own chairs if you choose to sit outside of your vehicle or if you choose to walk-in.
To purchase Lot C (Painted Lot) VIP tickets for $35, please call the box office at 716-754-9000
TICKETS MUST BE PRINTED AT HOME AND BROUGHT WITH YOU OR VIEWABLE ON A MOBILE DEVICE. WE WILL NOT BE ABLE TO LOOK UP YOUR TICKET PURCHASE.
NOTICE: Absolutely no refunds or exchanges will be granted on advance ticket purchases for any reason. No exceptions. All purchases are final. Make certain that you select the correct date, time, and movie title. No rain checks. Movies will be shown rain or clear.
ATTENTION: Purchase of tickets to Artpark obligates all guests to agree to and abide by our rules of conduct stated below. Any guest who fails to comply with any of those conditions, at the discretion of management, will forfeit their right to remain on the premises, and will be ordered to leave without a refund. Social Distancing Guidelines are not optional, and are subject to change without notice.
NO RE-ENTRY: Same night re-admission is not permitted. Patrons leaving the drive-in will be charged full admission price to re-enter, whether on foot or inside a vehicle.
PARKING: In accordance with the socially distant parking plan, vehicles will be spaced ensuring six feet with all other vehicles. Artpark and NYS Parks employees will be monitoring the parking lot to ensure vehicles are spaced properly and patrons follow all protocols in place to ensure safety of all patrons and employees.
Patrons will be permitted to sit in front of their vehicles. Carry-in chairs permitted.
WALK-INS: please bring your own chair and wait for an associate to escort you to Lot C to your spot allowing for up to 4 individuals/chairs.
FACE MASKS: All patrons/staff must wear a face mask whenever they are not seated, until further notice.
PETS: Dogs can remain inside the vehicle with the window down or may be outside of vehicles if kept on a leash.
NO RE-ENTRY: Same night re-admission is not permitted. Patrons leaving the drive-in will be charged full admission price to re-enter, whether on foot or inside a vehicle.
SNACK BAR/CONCESSIONS: Artpark will provide roaming concession associates to serve you in your cars.
In addition, walk up service will be available at the brick and mortar building that is located in the southwest corner of parking lot D. For Lot C, you will be served in your seats or have the option of walk up service at a concession stand at the far East end of the Lot C.
Please limit concession stand visits to one person per vehicle due to social distancing restrictions.
All items sold will be prepared and packaged to limit patron contamination.
Patrons in the snack bar line must space each other six feet apart and will be monitored for social distancing.
All guests must wear a face mask when visiting the concession stand until further notice.
Beer/Wine purchased at concession stands may only be enjoyed in designated areas.
New York State law prohibits consumption of alcoholic beverages while in a motor vehicle.
RESTROOMS
Restroom use will be limited to two persons at a time
Patrons are encouraged to wash hands when using the Restrooms
Both the brick and mortar and portable restroom locations will be cleaned and sanitized hourly
Please wear a face mask when using the restroom facilities
NO SMOKING in or near your vehicles, or near concessions serving areas. Smoking will be allowed in limited designated areas only, please ask a volunteer for directions.
If you have any questions, please ask one of our volunteers for assistance at any time.
Age Group: All Ages

Address:
450 South 4th Street Lewiston, New York 14092
Get Directions
Phone: (716) 754-4375